Launched in January 2017, Spaceship is an Australian financial services startup whose vision is to engage young people in actively building a strong and secure financial future. Its flagship product – Spaceship Super
– grew to over $100m Assets Under Management (AUM), with 50,000+ on its waitlist, in less than three months, making Spaceship the fastest-growing new AUM entrant globally.
In April 2018, the company launched Spaceship Voyager – an investment app aiming to make investing in a diversified portfolio simple, convenient and affordable.
Spaceship Voyager has no minimum investment, no entry or exit fees and is free for the first $5000 invested.
​​​​​​​

To comply with my non-disclosure agreement, I have omitted confidential information in this case study. All information is my own and does not necessarily reflect the views of Spaceship Voyager.

Like most startups, developing digital experiences would require constant iteration and improvements. In 2018, over 1,400 Australian millennials invested in Spaceship products, making them the largest customer segment. Millennials are digital natives and demand a positive online experience when it comes to interaction with their devices. According to Forbes, 73% of millennials would rather have digital experiences with their banks than personal ones. Like most Australians, they are new to the concept of micro-investing so designing a digital experience that resonate with them requires a lot of thought. Furthermore, we had to balance and find the intersect between user vs business needs.
I was part of a team of 4 UXers for this project. We collaborated on the quantitative and qualitative data research, recruited and scheduled participants, conducted tests, compiled new insights and iterated new concepts for the second round of user tests. My main role is the development of low and high fidelity prototypes / wireframes.
Research and project scope
We worked within an agile framework for this project. We also worked with the client (who happens to be the product designer and UX lead) to define the project scope for sprints 1 and 2. The client provided us with some research that they have conducted: Competitor analysis and some insights from preliminary user tests. During the project kick off, we decided to focus on the dashboard design of the app. We were also tasked to discover ideas around the concept of financial 'milestones' – what motivates the users and how they view 'milestones' as a concept.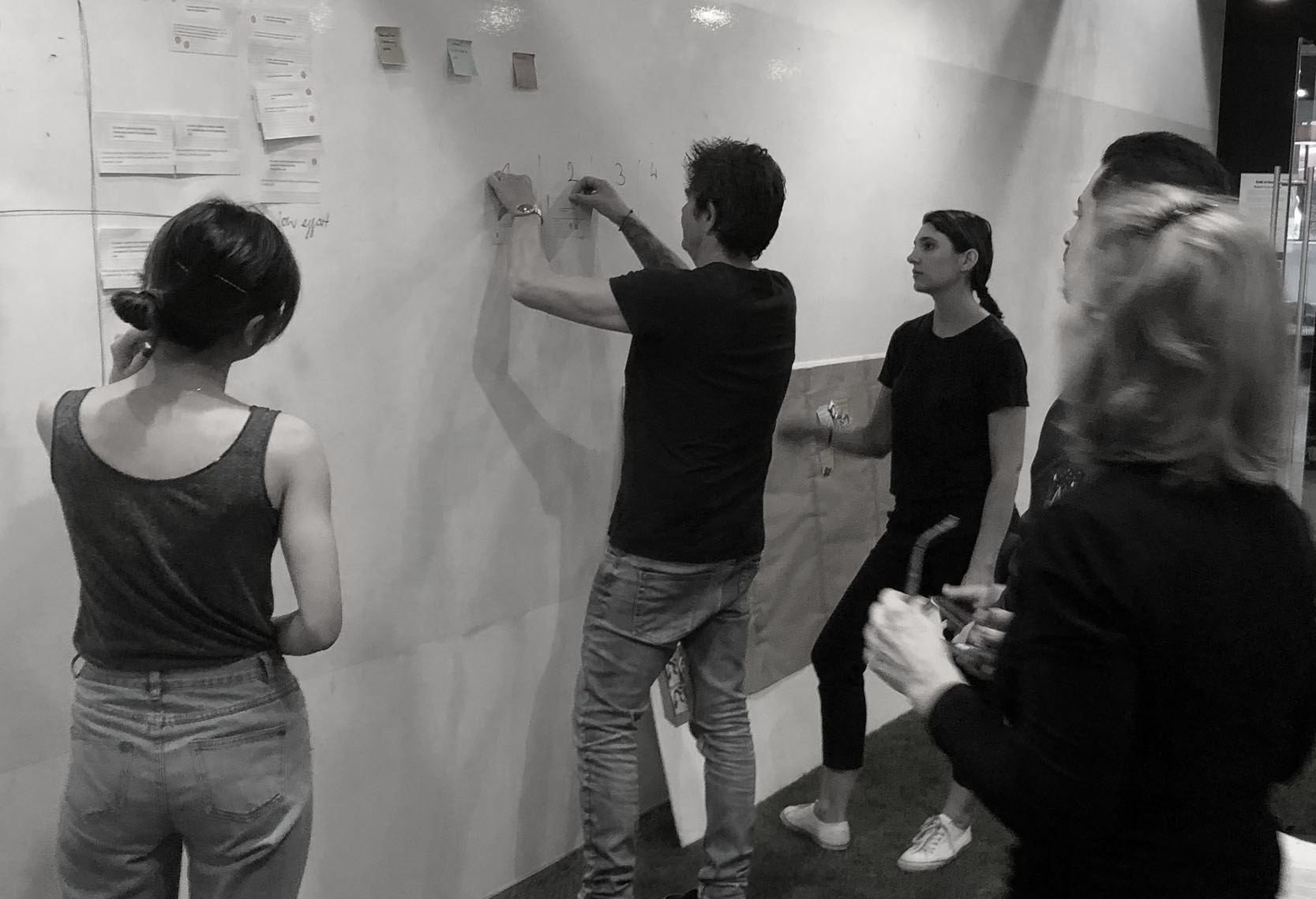 Sprint 1: MVP and Ideation
As a starting point, we used the insights from Spaceship and collaborated with the client to develop an MVP model based off the business needs. From there we facilitated a 6-up brainstorming session with the client to develop ideas for our first user test. We voted and selected the best ideas to iterate further. We then developed low fidelity wireframes for our first user test.
For our first user tests, we recruited 20-28 year olds Spaceship users and asked them questions around the proposed features in our wireframes. Some of the questions we ask our participants:
• Do you set goals for investing? What type of goals?
• Do you set milestones for your investments?
• What milestones would you expect in an  investment app?
• What motivates you to invest more?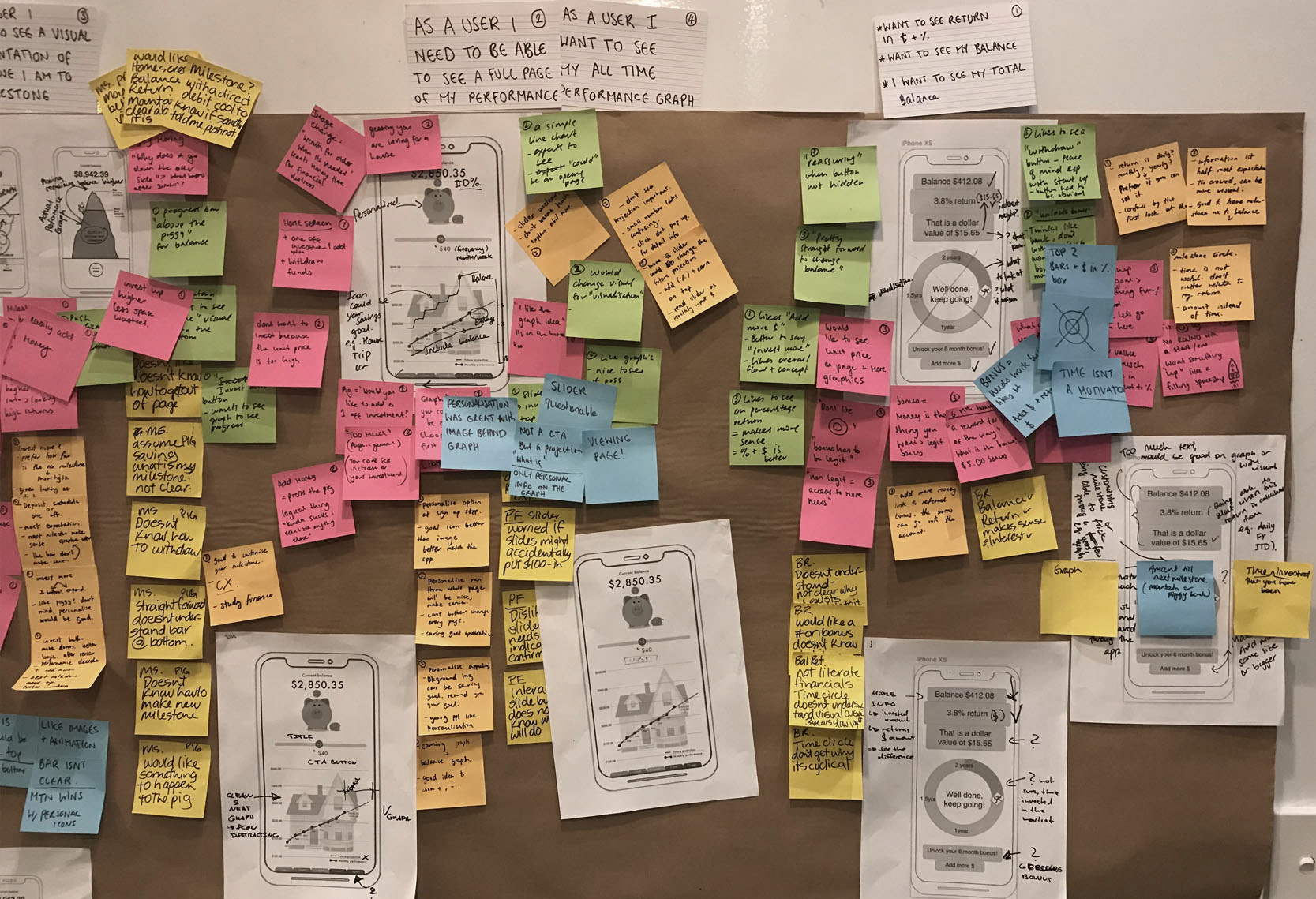 Most of the users identified the 'dashboard' as the 'home' screen. We asked them what are the most important feature for the dashboard and they answered, "current balance" and second, the performance chart. We also discovered our participants are divided on the subject of "milestones". Some are confused by the label and others feel it's too lofty. Some asked what happens when the milestones are met and who sets them. Our participants love the illustrated concepts for "milestones" but wondered what happens for example, when the mountaineer reaches the peak. Some likened the piggy bank to child-like savings and would prefer a more mature concept. Some suggested a spaceship, in keeping with the product's theme. Our also participants wanted a visible "withdraw" button as function on the current app is unclear. They view this a "comfort sign" and a gesture of good faith for a financial institution.
Observation:
Milestones vs Rewards
We had a lot of internal debate around the term 'milestones'. At the time, we weren't sure if it's a labelling issue as opposed to a conceptual one. While most people like the idea of receiving rewards, the idea of achieving them through milestones was polarising among our participants. Some like the gamification aspect, to motivate them into saving (and being rewarded), while others were put off by the term itself, preferring a 'softer' sell. We decided to build a concept around 'rewards' which through our user test resonated more with our respondents.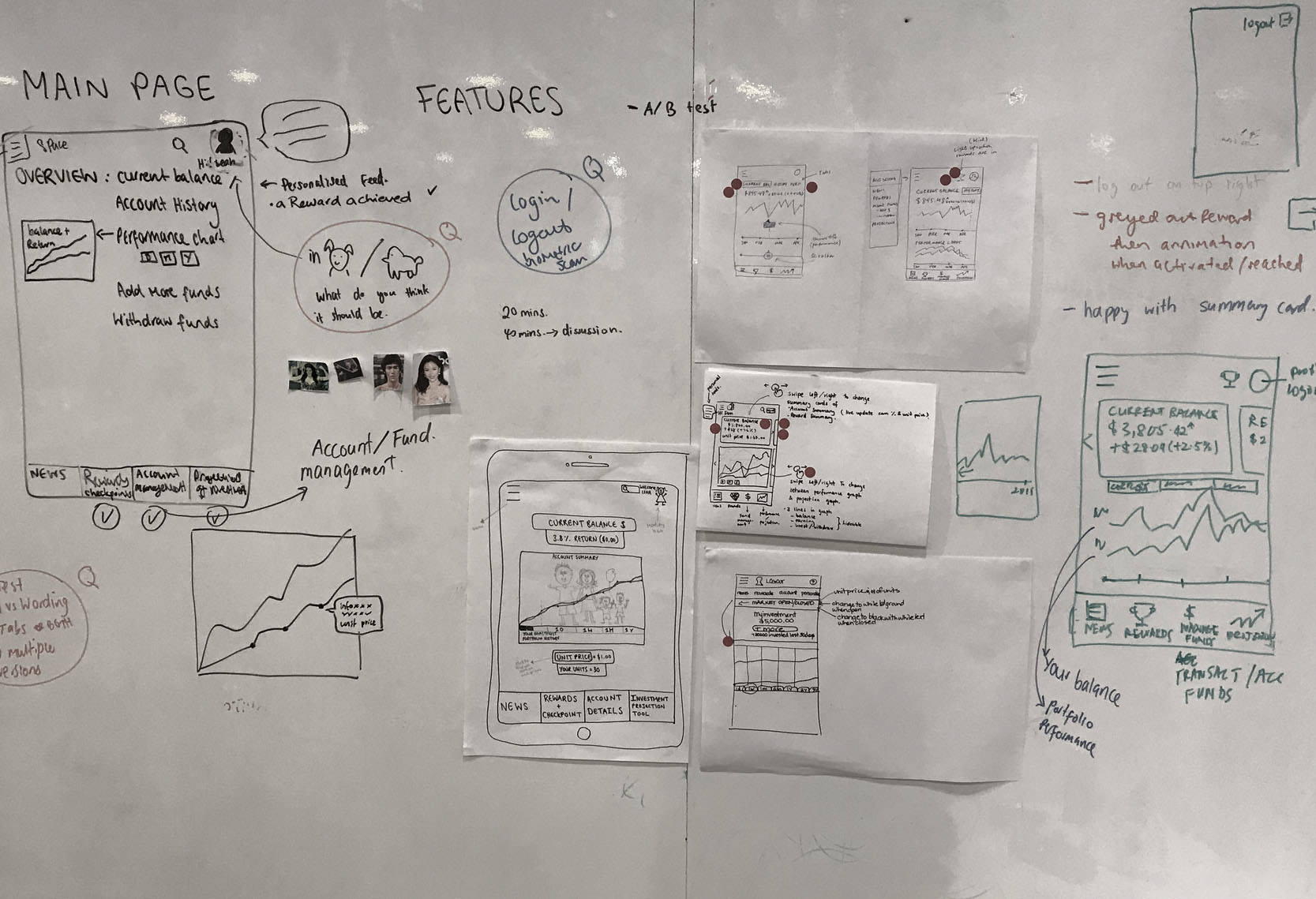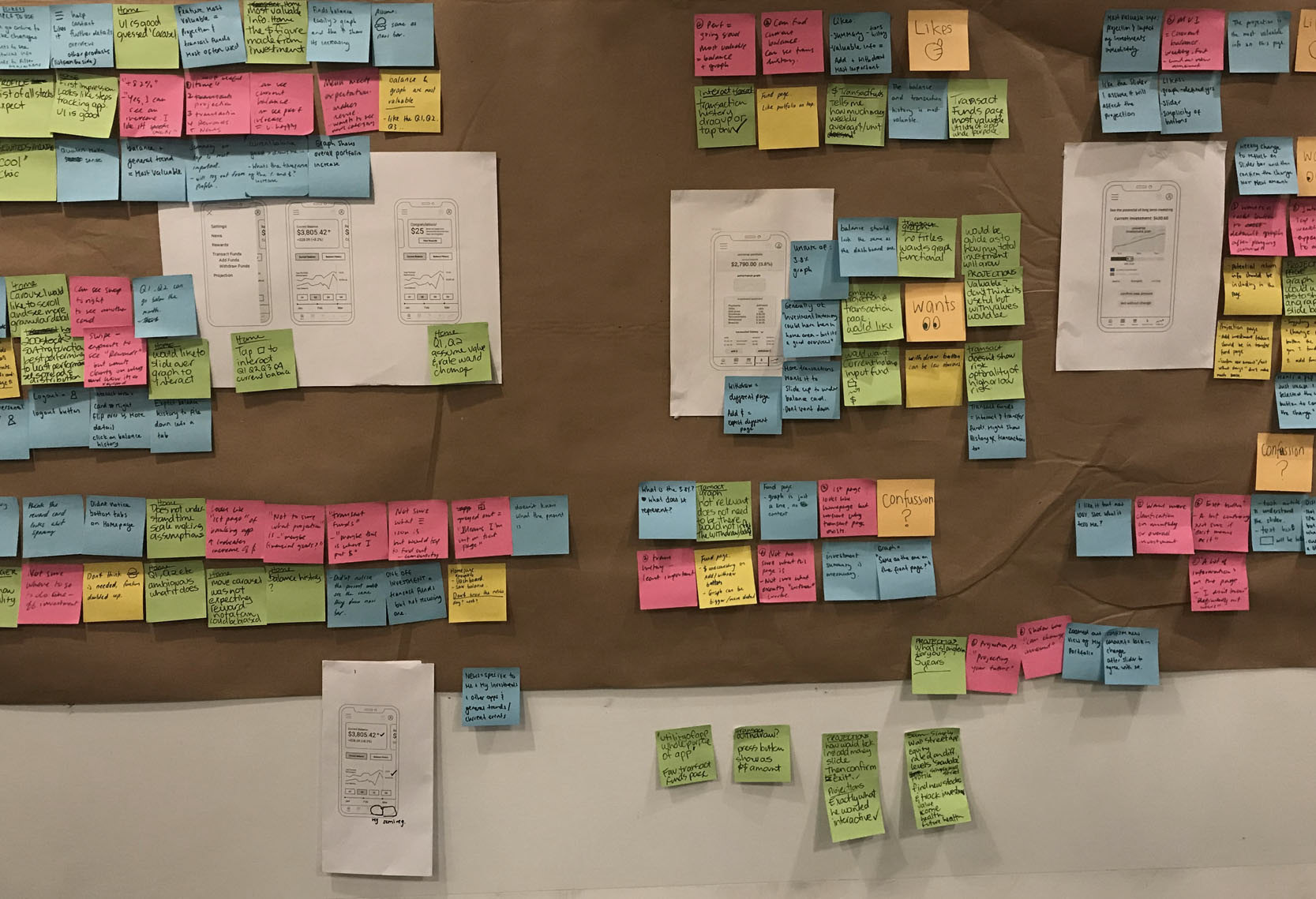 Sprint 2: Further Ideation
We ideated further on the first round of insights gleaned from the first user tests. We incorporated further suggestions into the UI design and improved on some of the labelling. We decided to test our participants on the concept of "rewards" as an alternative to "milestones" and ideated along the concept of a continuous rewards journey. We did another round of 6-up brainstorming and voted on the ideas. From there, we produced another round of refined wireframes for our second round of tests.
For our second user tests, we recruited 20-28 year olds Spaceship users and asked them questions around the proposed features in our wireframes. 

Some of the questions we ask our participants:
• How might you interact with this page?
• How would you lock in a new monthly investing rate?
• If you wanted to move the bar without locking in changes, can you do that?
• If you wanted to change to a weekly investment, how would you do this?
Most of our participants liked the improved 'dashboard'. They like the top card carousel idea as well as the hierarchy of information. Some users felt the menu icon is redundant but wanted to see a 'settings' icon in it's place. Our participants like the performance graph below and the secondary growth graph as a way of comparison. Most them identified better with the label 'rewards' and wanted to see more information on the top rewards icon, next to logout. They also wanted to know what the rewards are and if they're proportionate to the amount invested and that they're tangible (instead of a discount coupon).
Observation: Personalisation
I felt the current app is lacking in personalisation features. As a native app, purposely built to keep the user contained within its eco-system, the thinking is the user would expect some level of customisation. We wanted to introduce a personal dashboard to make the experience around using the app more of a journey for the user. Financial goals are deeply personal to the user and having a finance app that caters to the user's need will hopefully lead to higher engagements.
We incorporated the insights from the second user tests and delivered high fidelity wireframes to the client. Their initial reaction was positive as most of our insights concurred with theirs and further validated their haunches. They plan on using our research to validate their ideas and present back to their stakeholders with provisions to do more user tests.
​​​​​​​
"I thoroughly enjoyed working with Tracy, Christina, Leah and Hilbert who formed the project team to work with us at Spaceship Financial Services during their final project. They proved to us that they were able to take a Product Brief and run it through a solid user research and design process to come up with insights and professional wireframes that solved business and customer needs. They were punctual and professional in their project dynamics and delivery and I believe they will be able to use the skills they have acquired working with us on other projects to produce professional outcomes."
– Julio 
Castellano, Product Design Lead, Spaceship Financial Services